You have a choice. Offer a catalog or create a community. Traditional retail ecommerce relates to the former. You take what you did offline and replicate online. You give your customers a choice of products and rely upon price, speed of delivery and depth of product range in order to win their business.
Online retail is about motivating people to buy from you.
The direct-to-consumer market is different. At least, it should be different.
You're in the business of building a brand. Assembling a community around that brand and the products you make.
It's a completely different process you adopt.
For direct-to-consumer (DTC) marketers your job is to motivate people to buy into you.
No market demonstrates this better than the fashion world.
A fashion retailer, selling an array of products from a variety of brands, is tasked to capture the attention of those actively looking for what they sell. These customers have, typically, done their research. They know the brand that want to buy. There's a likelihood they also know the specific product. In sales terms, they're midway down the funnel.
For DTC brands it's a very different marketing process. You're not reliant upon the brands created by others. This is about building your brand. Building trust in your brand.
The fashion retailer will focus upon SEO and Paid Search. Two opportunities to capture eyeballs. The fashion retail marketer's job is to oil the mechanics of the traffic generation engine. To make the process of eyeball to product page to cart to transaction is smooth and efficient as possible. When people know what they're looking for, your job is to get your customers over the line.
Again, DTC is very different. You have no stock product photography or product descriptions to feed into your ecommerce platform. Your job is to go far deeper. To take ownership. To demonstrate value. To influence purchase telling your own story (not the story of others).
It's a different style of marketing. A different emphasis.
That's where I want to see DTC marketers homing their skills. Building your home and inviting people in. Making people, your customers, feel like they are part of something unique. That is why this often over-hyped method of storytelling is so important. It works.
As a DTC marketer you have to learn how to open the doors to your business. Take a look at Fairfax and Favour and how they tell their own unique story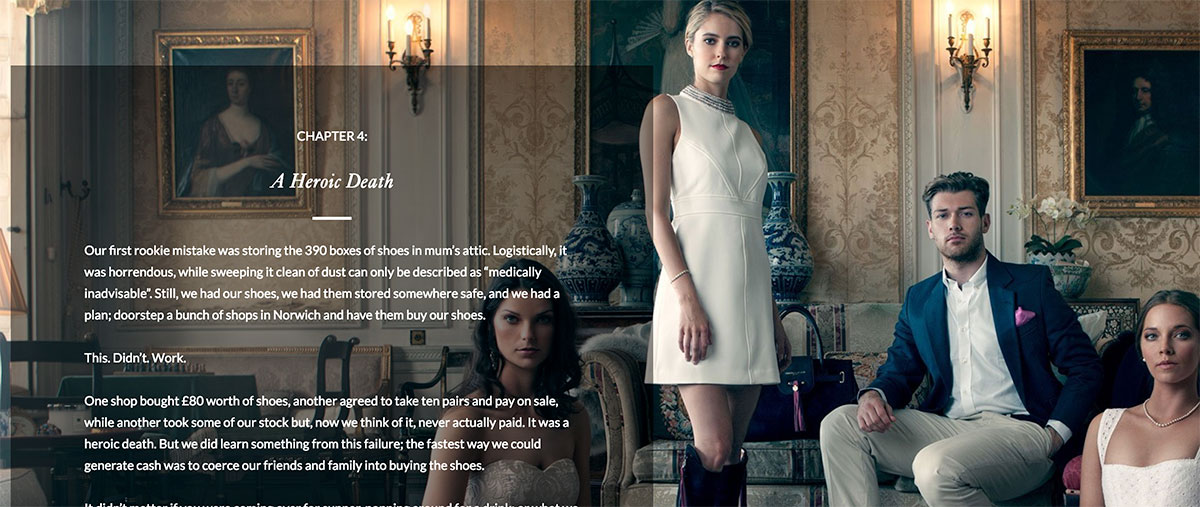 8 short chapters detailing their rise and the rollercoaster ride they embarked upon to get to where they are now. It's a story that continues to evolve. It's a story that brings you closer to the brand. Empathy. Context. The reasons necessary to invite your customers to buy in to what you do.
A fashion retail brand will not have the same story to tell. Story would be seen as an unnecessary distraction when a website visitor is already upon a product page.
This may sound like a sweeping generalisation. It's not. The majority of retailers have a far more direct route to sales than the DTC brand. More touchpoints, more attribution to measure. Customers taking more time to purchase.
And this is why I fear for DTC brands adopting the retail playbook. The overemphasis on traffic generation over conversion and retention. Getting people in, without having that unique story to tell, is a sure fire way of throwing advertising budget down the drain.
There is a gulf between traditional retail and DTC. It's a gulf that needs to be addressed.
The traditional retailer wants to hear how just how quick delivery was when they ask their customer to review their purchase. That speed from shelf to customer is a defining value proposition.
Conversely, the DTC brand wants to hear how the products your customer purchase solve problems often faced by others.
Retail is about service. Running a slick operation.
DTC is about product and brand.
DTC offers you a greater opportunity to become a more creative marketer. Your work is data-informed rather than data-driven. You have the opportunity to tell a greater story because you have access to the makers. Your people.
You have a perspective to share that you can sell into your market. Something different, the reason your brand exists.
I've sat across the boardroom table with hundreds of multi-brand retailers. The demands on their role are very different to the DTC brand.
The DTC brand has flexibility. The freedom to curate and bring their customers into their own story.
I don't want to see DTC brands adopting the retail playbook. You have a bigger job on your hands. If you make wonderful products your task is to bring your product story to life. Creative use of video. Creative use of words. Again, something different, something a little less direct, something differentiable.
Don't get stuck tracing the retail strategies of others. Work from your own blank canvas. Build a community around your products. As a marketer, it's a hugely exciting place to learn your trade.
---