I'm in conversation with store owners regarding their use of Klaviyo on a daily basis.
There's a common thread.
Store owners with a list of boxes being ticked.
exit-intent overlays that grow your list. ☑️
cart abandonment flow (3 step). ☑️
subscribe onboarding sequence (inc. voucher code). ☑️
customer welcome flow (inc. cross-sell or up-sells). ☑️
90-day winback emai (inc. timed voucher). ☑️
Synced list with facebook ads. ☑️
… and finally the Octane AI integration to build those Facebook Messenger conversations ☑️
Then there's talk about a/b testing. Yep. They're testing subject lines. Done.
Best practice. ☑️
And then we get to the crux of the conversation.
"What more can we be doing to build better flows in Klaviyo?"
It's as if there's a list of 'Klaviyo hacks' that you can just tap into. There isn't.
From this point onwards, you're on your own. You and your brand. Fortunately you have data as your guide. Your data. Nobody else's. There's no blog out there teaching you how to make best use of your own data.
Success with Klaviyo isn't about the checklist. Klaviyo isn't a hack, or a growth tactic, you simply install. It requires a mindset shift that you employ.
Klaviyo isn't Mailchimp on steroids
Now you have data to work with. Data that informs you of your customer's behaviour. Individually. Collectively.
The sequences you create are built upon the data insights you uncover.
Rather than looking for best practice advice, begin looking at data.
Learn from within Shopify the products that customers often purchase together. Now, create segments of customers who have purchased either item and build a cross-sell flow.
Create browse abandonment flows targeting existing customers that view a particular product two or more times after their last purchase was made. Fill that email with product-specific reviews and your own perspective. Don't just send an email with 'Shop Now' buttons all over the place. Those don't work.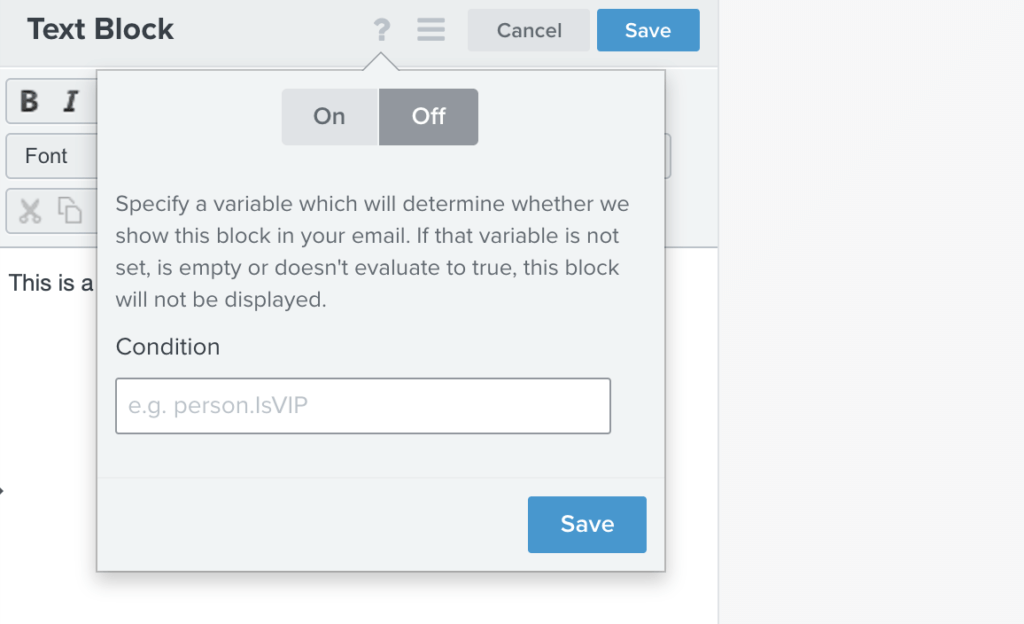 Rally non-purchase subscribers to make their first purchase. Remind non-purchasers of any discount incentives you're running using the block conditional settings (in the example above). This means you don't have to spend additional time creating separate emails for non-buyers. Conditional blocks take 2 minutes to create.
On the other end of the spectrum, remind your VIP customers of any exclusive offers (or rewards points) that have earned using conditional blocks too.
When we talk about personalised email campaigns it's not too difficult of time-consuming to make the necessary adjustments to your regular newsletters. You just need to spend time truly learning the capabilities of Klaviyo.
The simplest way to view sequences and flows is to consider the buying or browsing behaviour of your customers and build out 'what next?' scenarios
what are the next logical steps a subscriber should take based upon their previous behaviour?
As shoppers we desire acknowledgement for our loyalty. We like to feel known. Whether that be at your favourite restaurant or your trusted online store, it gives you a good feeling when you are welcomed as a valued customer.
With this in mind, consider how you acknowledge your repeat customers. In between the order confirmations and dispatch emails, a quick note from the founder telling saying 'thank you'? It's your way of acknowledging your best customers and building further loyalty.
Every sequence you create is based upon your own business, your own customers, your own products, your own data.
Begin mapping out your customer journeys. The products that you know people will love, create sequences delivering your own knowledge to those that have taken a look at the product page without taking any further steps. Maybe set a 10 minute delay on sending, don't make it look too 'big brother is watching'. Claim serendipity.
Arm yourself with a tool such as Octane AI that will allow you to build further conversations with your customers through Messenger.
Take a look at what Ben at BeastGear.co.uk is doing through his new subscriber sequence.
First introducing a 'secret' club that subscribers can join:
and then carrying that conversation across to Facebook Messenger to help open up new opportunities where your customers are already spending their time. Consolidating your subscriber relationships.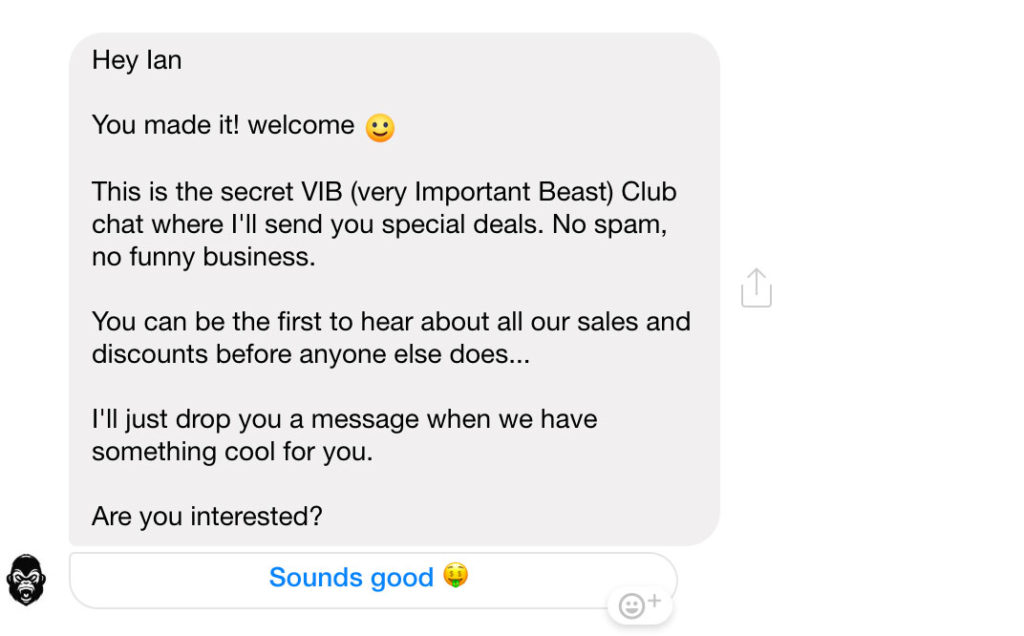 Always be wary of overloading your customers with repetitive messaging. Be mindful of your use of Smart Sending and remember learning who to filter from sequences is as important as those that you add.
Klaviyo sequences are enormously powerful email tools that drive profitable growth for your store. Don't just rely upon the work of others to discover what works. Create your own pool of learning from the data you already have available to you.
Now make the most of Klaviyo sequences to really drive your business forward. Your own unique way.
---