Influencer marketing is a strange one. Paying people, people of 'influence', to promote your products to their followers. Yes, I appreciate that agencies profess it's a far more complicated procedure, but, that's what it is. Paying for placement.
And I see brands of all size, particularly fashion brands, stacking their budget chips on the 'influencer'.
I'm also concerned by the amount of time the 'influencer strategy' is laboured upon.
For me, I'd rather see that budget invested in people that truly matter. Your own customers. Your own influencers. People that share, not for a living, but for the simple act of helpfulness.
Start shaping your brand as a community, a club, where people are willing (because that's human nature) to talk you up to those ready to listen. Whatever you sell. And you do not do that merely offering a catalog of products through your store. You build your brand.
Seriously, don't be the transactional website
Ecommerce has evolved. I should know, I've been plying my trade here for 22 years now. It's through that experience that I truly get excited for the opportunity you have to build your own brand right now. There are so few restrictions on how you can create and share valuable content, to build a network of loyal customers and to empower your customer to share your story.
So that brings us back to the influencer. Do you really need to reach outside your own community in order to build awareness? To find your influencers? Should, instead, you work to mobilise your own customers to become your brand's greatest marketers? To talk, naturally and with authority about the value behind the products you create and sell? Without slapping a price tag on their work?
Yes, of course you should incentivise your customers to share their images on Instagram. Platforms like Smile give you the opportunity to reward your current customers, to gamify the reward process where you can offer additional incentive to customers that either share a unique code or earn an exclusive product.
You won't build that community if all your time and energy goes into first-time acquisition. Where you ignore the opportunity to build your brand (rather than sell your products).
I've sat opposite marketing teams hell bent on driving acquisition with no consideration for what happens post-purchase. For them, their job was done. And that's wrong. They've never walked the walk of the customer. They had no desire to engage customers after the sale (with the exception of the weekly come one – come all newsletter). To gain a better understanding of why people were buying the products they were.
They simply worked to assumption. That's a dangerous place to operate.
Those are the teams that believed influencer marketing was the missing piece in their acquisition jigsaw. Happy to fire out payments and products left, right and centre in the hope that they could tap into existing fanbases with similar likes and desires. Because, on paper, their audiences were well suited. All for a fleeting view of product.
Your customer is the influencer
Life is Good is a brand built upon community. The below image was shared in a recent newsletter. Marisha has 6000 followers. No huge global following. Just folks that enjoy what the shares. You know what? She just loves the Life Is Good brand. When you feel part of a brand (again, that word community) it's a great feeling to demonstrate that association. So, to have you image featured within an email? It simply makes folks feel good.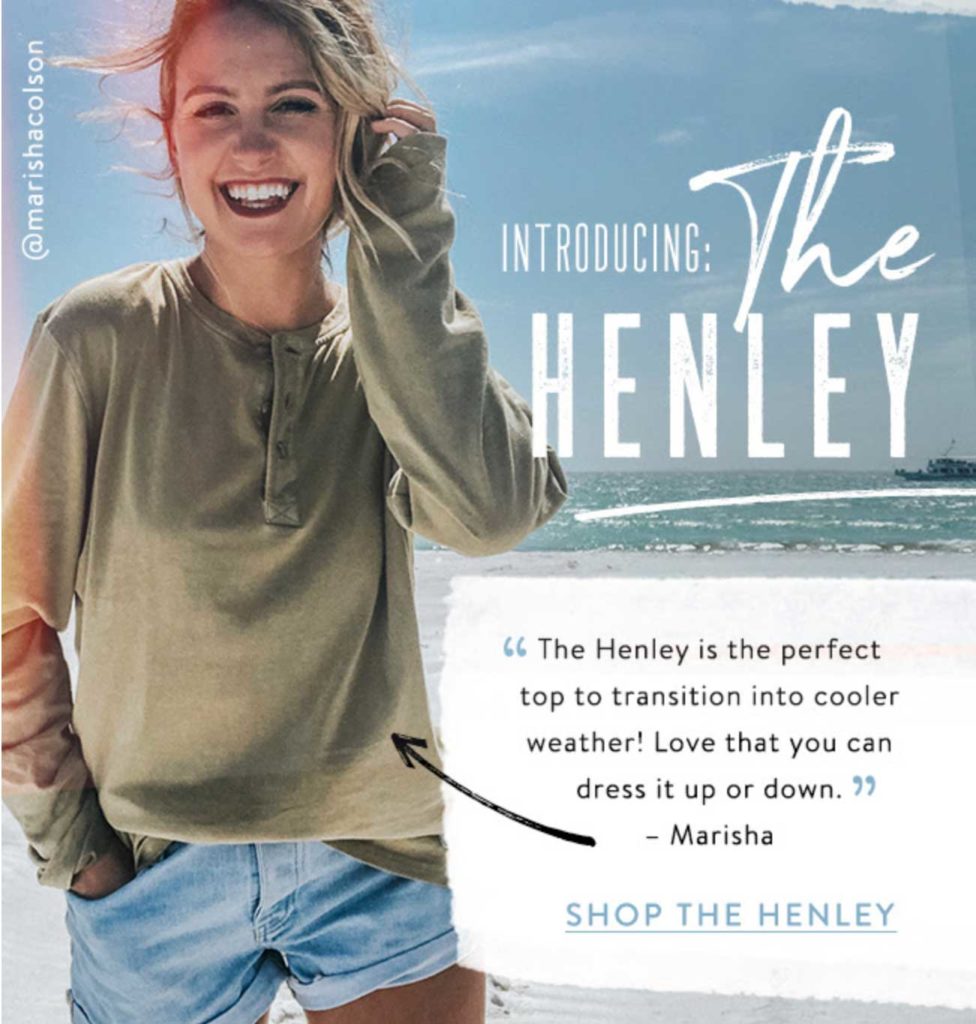 and that's our job as the 'brand'. To make people feel good being part of our own little community.
For you, as the marketer, it gives you a great feeling too. To know that you're making somebody's day choosing their social media share as part of your work. This goes way beyond analytical or data insight. This draws from the realms of emotion.
An emotion builds the bond that builds your brand that builds your business.
So, before you spend any more on influencer marketing, consider what you can do to create influence from within. To empower your customers, new or old, to help spread your gospel, authentically and naturally. Incentives work, but don't just think about cold hard cash. Think about intrinsic rewards. Rewards that fill hearts rather than the bank accounts of random instagrammers known to themselves as 'influencers'.
---